Excerpts from pre-composited elements for BBC's "Gory Greek Gods, Divine Violence & Divine Sex"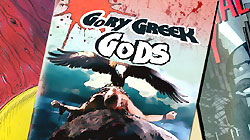 THE PROGRAMMES
The BBC's Gory Greek Gods, Divine Violence & Divine Sex
The Olympians - the mythical Greek Gods - were almost like a fantasy family firm of mobsters. While not dealing directly in crime, these ancient-world Sopranos were certainly in the protection business. Divine protection was on offer. To their ancient worshippers, Greek religion was all about appeasing and honoring the Gods. However, these gods weren't like our God. They could be good, but very often they could be unfair, ungrateful, spoiled, and sometimes, downright nasty. In short they could be like Gangsters. In these BBC two one-hour episodes this is how we depict the Gods: - a Firm - not from New York, Chicago, or the East End - but somewhere in between - a place where archetypes exist. Presented comedienne Ninia Benjamin of 3 Non-Blondes fame,
Gory Greek Gods
 illuminates the sometimes outrageous world of these mythical gods and their ancient worshippers. In its two episodes,
Divine Violence and Divine Sex
, rotoscope animation is used to bring to life the world of the gods in all its gory detail, while the documentary explores the life and legacy of the ancient Greeks.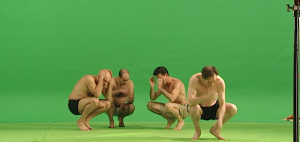 THE WORKING METHOD
The BBC's Gory Greek Gods, Divine Violence & Divine Sex
We created over 60 minutes of rotoscoped animation for two one-hour episodes. Working closely with BBC director
Arif Nurmohamed
we developed a unique stylistic vocabulary to enhance the narrative and emotional tone of each scene. Gory Greek Gods took a contemporary approach to the Greek myths; we went for an edgy style, venturing into extremes, to heighten the emotional content of scenes of love, lust, sex, anger and violence. The animation was accomplished almost entirely using
Studio Artist 3.5 and MSG Evolver by Synthetik Software
. These powerful applications, developed by
John Dalton
, possess an incredible depth and flexibility; they served us amazingly thoroughout the design process. The source video of the actors and sets (the basis of the rotoscope animation) was shot to create a comic book feel. To that end the actors used larger than life gestures and motions; and both the make-up and lighting were bold and stylishly cartoon-like. The source video evoked an almost silent-film aesthetic mapped onto a thoroughly contemporary style. The Gods on Olympus scenes were shot in studio against green screen for compositing with backgrounds later. Scenes set in the mortal world were shot with hand held camera in the natural world. Our animation style ranged from low key (simplifying shapes and intensifying color) to more radical (wild, flowing paint, vectorizing, time particle painting, color mapping, frame blending & morphing). The give and take between
Victrolux
, director
Arif Nurmohamed
and editor/compositor
Dave Monk
was essential in developing an evolving style for the two programmes. It was quite exciting to watch the the work grow throughout this process.